Prediction is very difficult, especially about the future.
Niels Bohr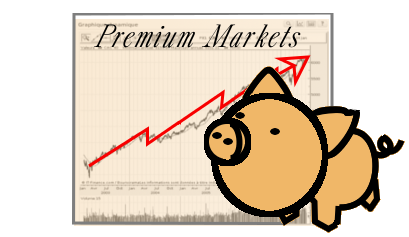 Dear Reader, this web site is a non-profit initiative. It is free. It aims at helping You in making profitable stocks and shares transactions.
Give as ...
Every penny/cent counts and You can help.
Hosting and developing a cloud based web site has costs. If you found this site of some interest, take a minute to help keeping it online and improve.
Premium Markets, Free stock market Forecast, Trend Analysis, Investment Advice, Buy Sell signals, based on Sector Rotation and Technical Analysis
The stock market trend forecast engine, indices and sectors rotation
Premium Markets is a free stocks and shares price trend prediction engine using neural networks. The stock market forecast is based on sectors and markets indices rotation and stock markets performances - in this page - , as well as on technical analysis of individual stocks and markets - in this other page - .

This free trend forecast software ought to help you, as a stock market beginner or as an advanced investor, in stock market screening, performance projections, market analysis and ultimately in finding the best future stocks and shares for your swing or long term investments. Premium Markets also offers stocks buy sell signals monitoring via buy sell advice sent through email notifications.

The stock market forecast engine is available as a free workable demo online and also as a standalone application. The latter including additional features like price historical data charting, price trend monitoring, financial technical analysis indicators and oscillators editing and managing stock portfolios.


Let Premium Markets be a free addition to your stock market watch and stock market trend analysis.
Preamble
Below is a free demo of the prediction engine based on indices rotation. Be aware that this is still a work in progress.
I would suggest, if you have not done so yet, that you first check the prediction engine based on technical analysis which has so far given better workable results.
Premium Markets Forecast Engine, Indices and Sectors Rotation
This free service gives you the ability to run a forecast of the stock market trend on the main stocks and shares of some of the main stocks and shares markets. The calculation is based on analysing how the stocks historical data relates to other reference indicators like sectors and markets indices.
You will find below a default set of reference indices already set up. Even if it is not recommended, at this stage, you can change these reference indices and experiment with your own set.
The forecast calculation includes a back test, run as a proof of principle on your selected share. You can then monitor the stock future trend using the email notification free service.
This advice and any other service provided by Premium Markets are provided 'as is' without warranty of any kind, either express or implied, including without limitation any implied warranties of condition, uninterrupted use, merchantability, fitness for a particular purpose, or non-infringement.
For more information about the calculation please refer to Premium markets
Premium Markets forecast home page
.
For requests and comments, use the
contact
.
Any suggestions or comments are also well come on
Google +
.
Current reference indices set